Everything You Need to Plan Your London to Bath Day Trip
Best Day Trips from London to Bath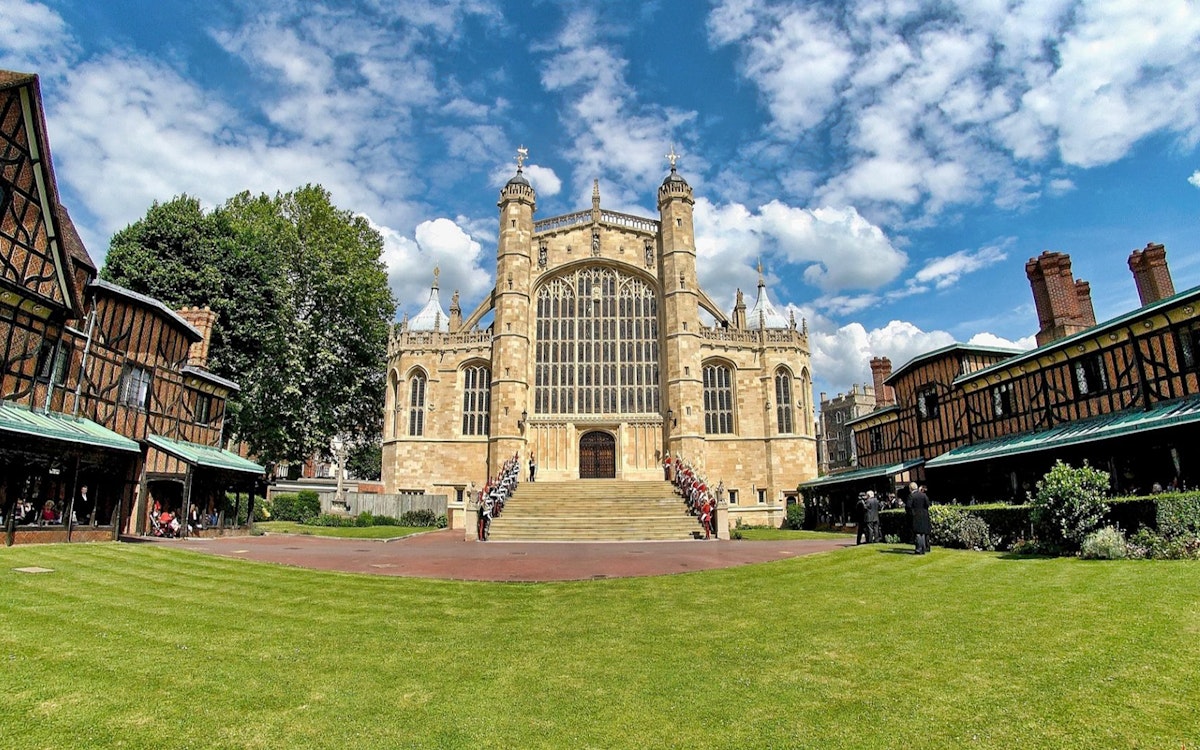 Windsor Castle, Stonehenge and Bath from London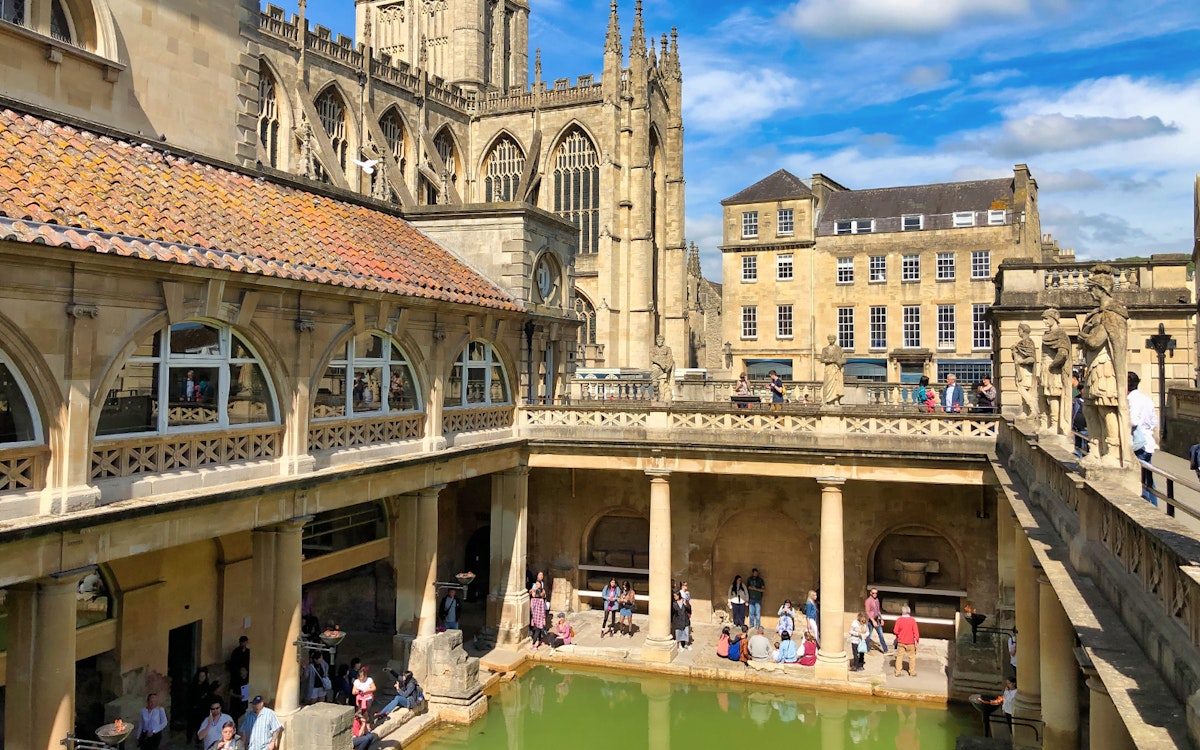 Windsor Castle, Stonehenge and Bath Tour with Access to Roman Bath Fro...
Windsor, Salisbury Cathedral, Stonehenge and Bath Tour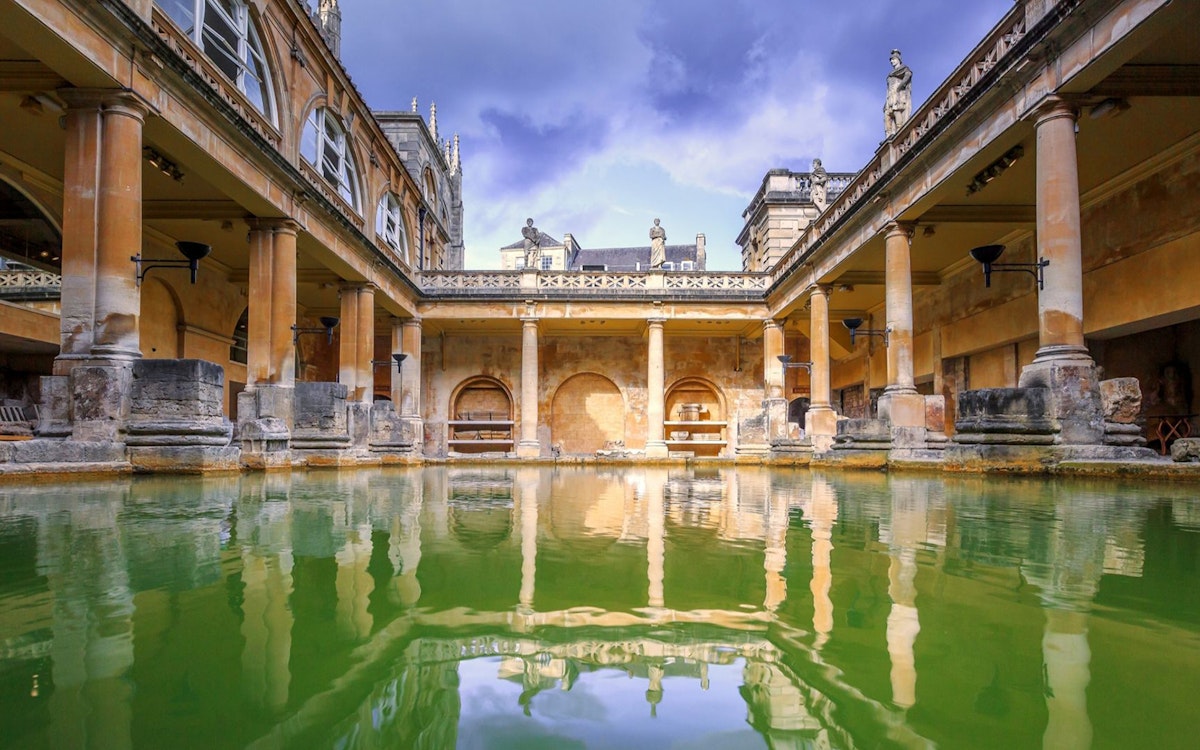 Stonehenge and Bath Guided Day Trip From London
Windsor Castle, Stonehenge and Bath from London
12 Hours
Round-Trip Transfers
Instant Confirmation
Full-day guided tour of three most popular destinations near London
Inclusions
- Day tour to Windsor, Stonehenge, and Bath
- Round-trip transportation in an air-conditioned coach
- Professional guide
- Admission to Windsor Castle, Stonehenge and Roman Baths (Optional)
- Lunch (Optional)
Cancellation Policy
The ticket cannot be canceled, amended, or rescheduled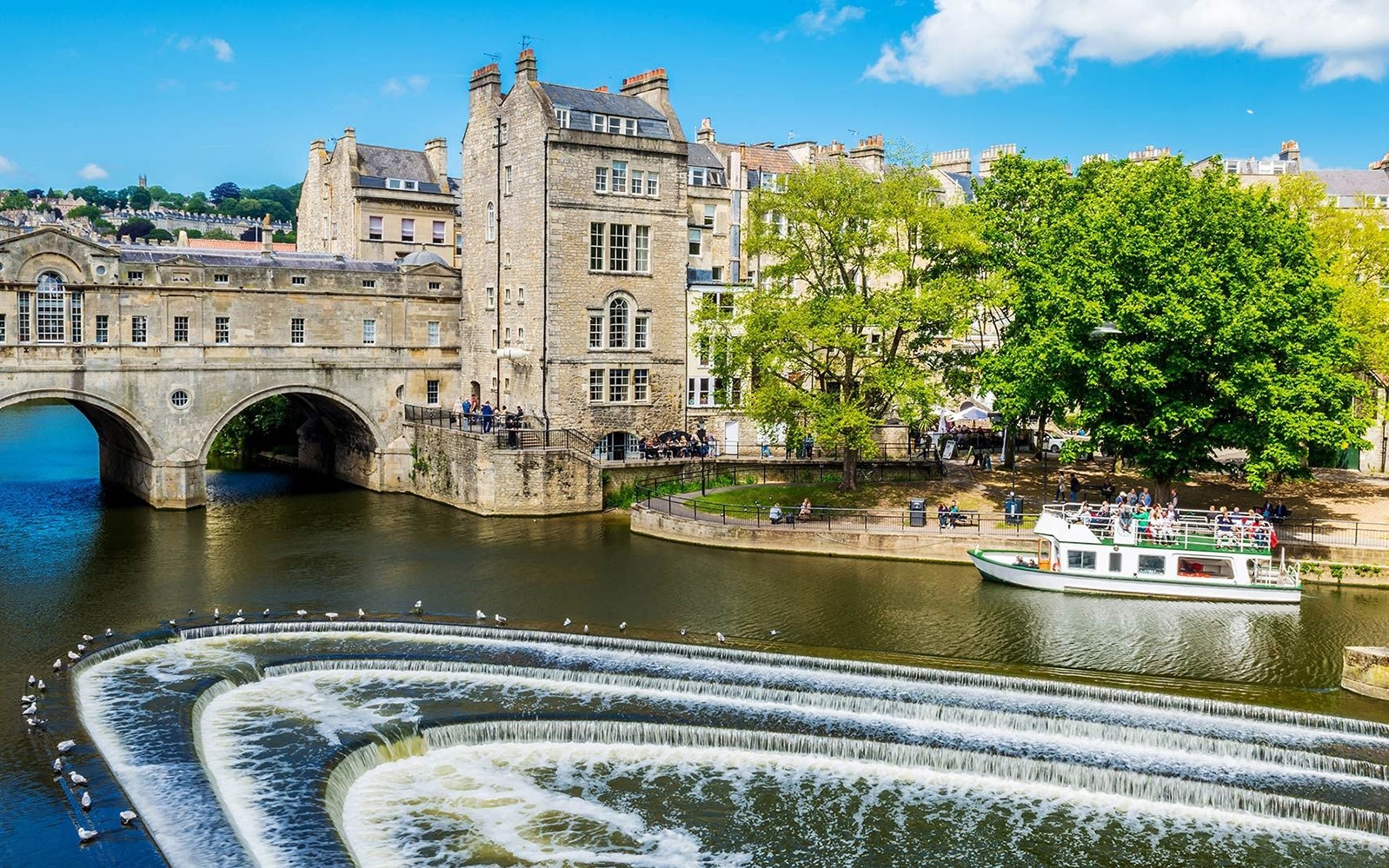 One of the most-visited cities in the world, London has a lot to offer to visitors in terms of attractions and experiences. However, there is much to see beyond this magnificent city. As London is well-connected to the rest of the country by means of the railways and roads, it's easy to take a quick trip from the city. Leave behind the past-paced hustle-bustle of the city and head out to the countryside or further and discover the best of the United Kingdom.
Visiting Bath Post-COVID 19
Bath is now open to visitors with new rules and measures in place to ensure the safety of visitors. Visitors can now discover this UNESCO World Heritage Site through various Bath tours.
Bath Rules & Safety Measures
As part of safety measures, most Bath attractions have reduced visitor capacity to reduce crowding. 
Visitors must carry their own masks and keep them on at all times.
Social distancing is compulsory and hand sanitizing stations are available at most venues. To be extra safe, guests are encouraged to carry their own hand sanitisers. 
It is recommended that visitors pre-book their tickets and tours, as some attractions such as the Roman Baths, do not allow walk-in visits.
Why Take a London to Bath Day Trip
Bath is just under 200 kilometers away from London, making it perfect for a day trip from the city. The largest city in England's Somerset county, Bath is located in the valley of River Avon. It is mostly famous for its Roman-built baths. Bath has been famous as a well-being and relaxation destination for ages, so much so that even the Romans visited this city to take full advantage of its natural hot springs. The entire city of Bath was declared a World Heritage Site in 1987, and today, tourists from around the world come here to experience the Roman bathhouses for themselves. Visitors are also encouraged to explore this stunning city and soak in its beautiful Georgian architecture.
Your London to Bath Tour Options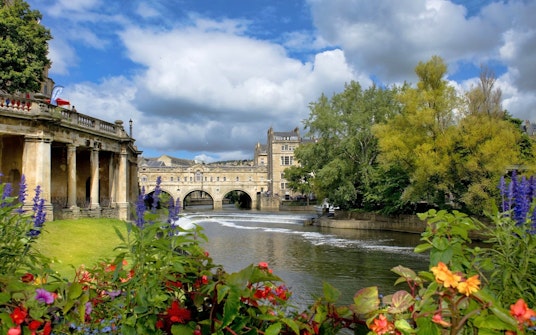 Guided
The best way to discover Bath is through a guided tour. This is especially true when taking a day trip to Bath from London, as guided tours cover all your transportation, ensuring a hassle-free visit. Additionally, you will be accompanied by an experienced tour guide, who will give you insights into the city, answer your questions, and show you hidden gems around the city.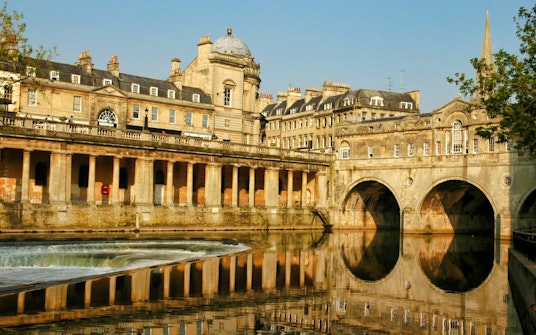 Non-guided
A non-guided tour is for those who want to discover this brilliant city on their own terms. As part of a non-guided tour, you get to choose when you visit, what you visit, and how long your visit will last. This option allows you to be flexible with your plan, but you will have to also plan your transportation.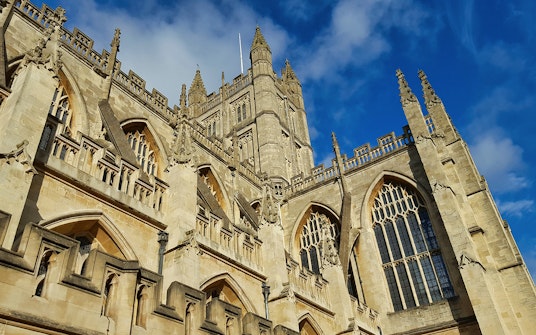 Combo
As part of a combo tour, you get to visit more than one location. In this specific case, you can visit Bath along with locations like Stonehenge, Windsor, and Lacock, among others. Transfers are covered, and you will be accompanied by a professional guide who is well-versed in all things Bath.
Guided vs. Non-Guided Tours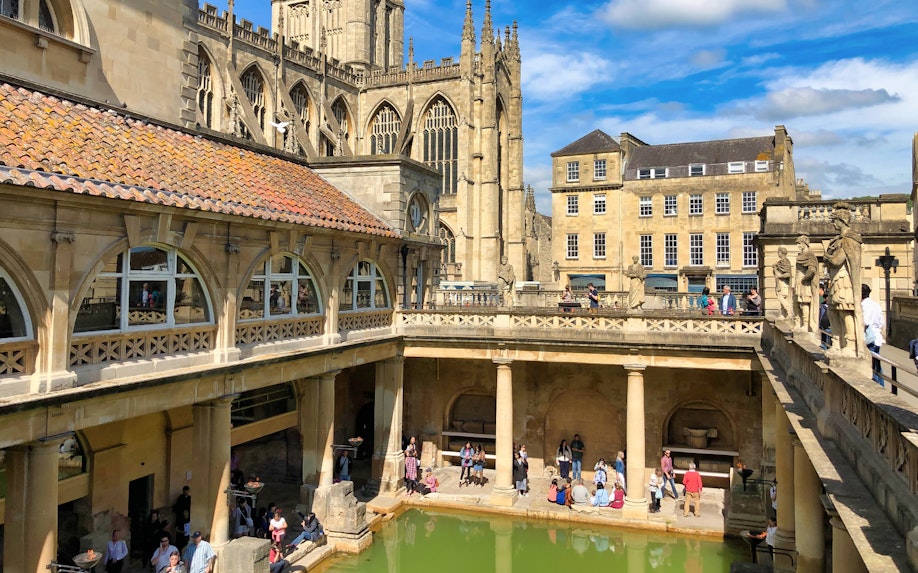 Guided Tour
You will be accompanied by an expert guide who will take you around the city and give you all the information you need.
Guided tours are conducted in groups of five or more.
Guided tours include transportation, either from a meeting point or your hotel to ensure a hassle-free trip.
Guided tours have a fixed itinerary that you can check in advance, and have set timings to ensure you stick to the itinerary.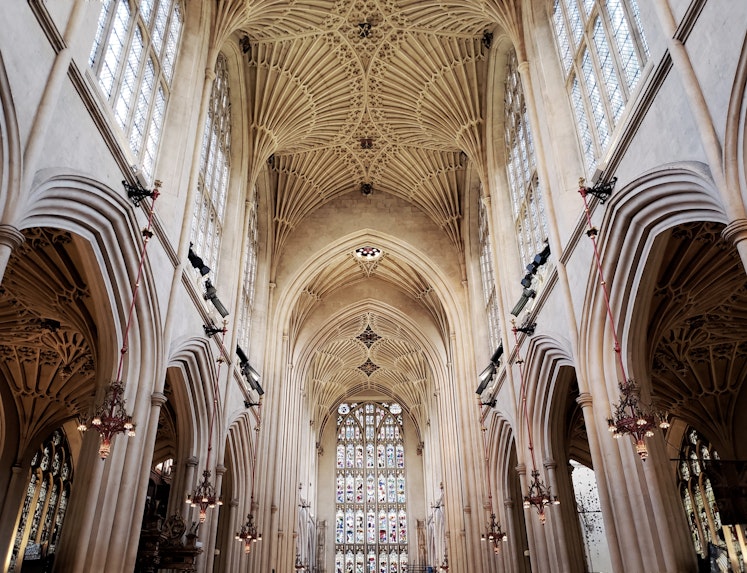 Non-Guided Tour
You will discover the city of Bath on your own and at your leisure.
A non-guided tour doesn't include a group.
Transportation is not included in non-guided tours, and you will have to arrange for it on your own.
Under non-guided tours, you can explore the city at your own pace in a flexible way.
Which London to Bath Tour is Right for You?
1. Budget-friendly Bath tours
If you're on a budget, purchase coach tickets, and tickets to the specific attractions you want to visit. Try to get audioguides wherever available.
2. Guided London to Bath tours
If you want to discover the city of Bath and get information and facts about the past, present, and future of this magnificent city, go for a guided tour. Bath city guided tours take you to the best attractions the city has to offer.
3. Combo London to Bath tours
If you want to explore attractions other than Bath while on your trip, you can purchase Combo Bath tickets. Some popular places to visit along with Bath are Stonehenge and Windsor.
What to See in Bath
Here are some of the attractions you will get to see as part of your day trip to Bath. Roman Baths and Bath Abbey are open for visit, while Pulteney Bridge and Royal Crescent can be viewed from the outside.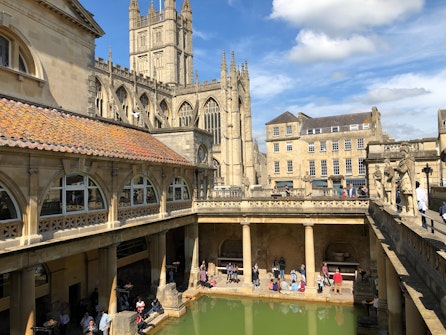 Roman Baths
Built around 70 AD, this is one of the best-preserved Roman baths in the world. When visiting, you can also access an interactive museum with lots of artifacts to take you back in time. You will also get a chance to try the spa water, which has over 40 minerals in it.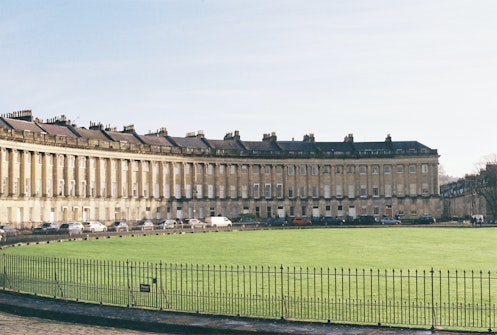 Royal Crescent
Built in the late 1700s, the Royal Crescent is a perfect example of Georgian architecture. There are a total of 30 terraced row houses, of which house number 16 has been converted into a hotel, and number 1 is a museum.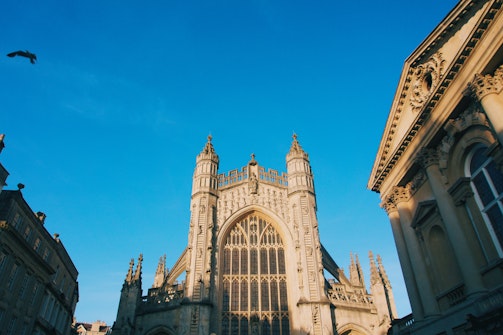 Bath Abbey
Founded in the seventh century, Bath Abbey AKA Abbey Church of Saint Peter and Saint Paul is not just a tourist attraction - it is also an active place of worship (and has been for over 1,000 years). Made of the same Bath stone as the rest of the city, this is also a fine example of Perpendicular Gothic architecture. Please note that the Tower tours have been suspended due to COVID-19.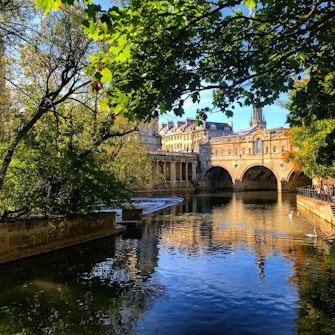 Pulteney Bridge
Built across River Avon in 1774, this 148 feet long bridge is made in Georgian architectural style. The bridge is made of limestone and is designed in the Palladian style.
Plan Your Visit to Bath
Getting there
Best time to visit
Food & Drink
Staying in Bath
Shopping
Must do in Bath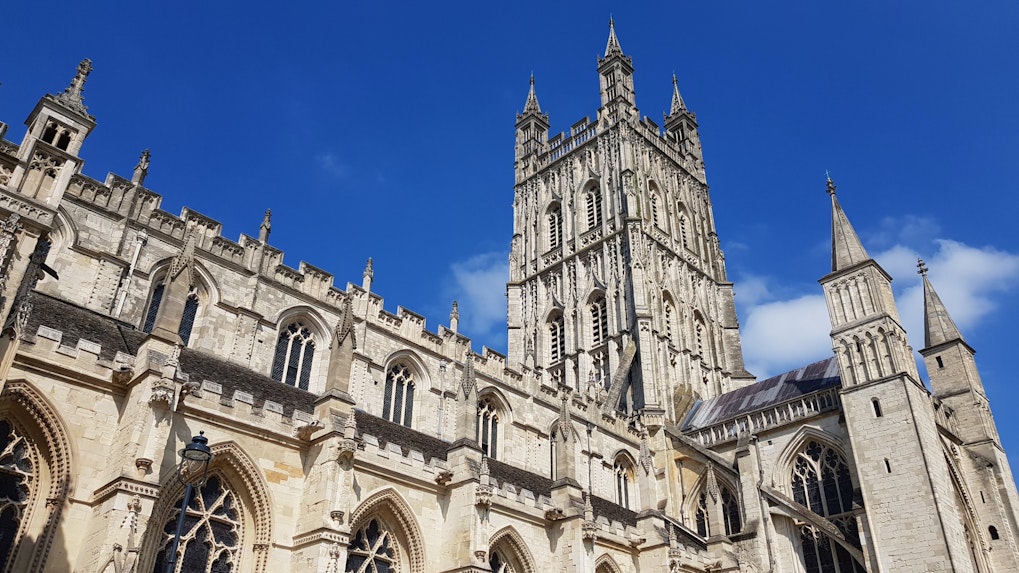 Coach: You can take a bus from London to Bath from Victoria Station. These frequently, with one every 1.5 hours or so. This is the cheapest way, but travel time is upwards of three hours.
Train: You can take a London to Bath train from Paddington station. These run frequently as well, nearly one every 30 minutes. Your travel time would be about 1.5-2 hours.
Car: One can also drive down to Bath using the M4 motorway. While this is a convenient way, keep in mind that parking in Bath can be expensive. If you drive at a decent speed, the journey could take you about two hours.
Guided tour: As part of a guided tour, your transportation from London to Bath is done in a comfortable, private coach, usually with free WiFi.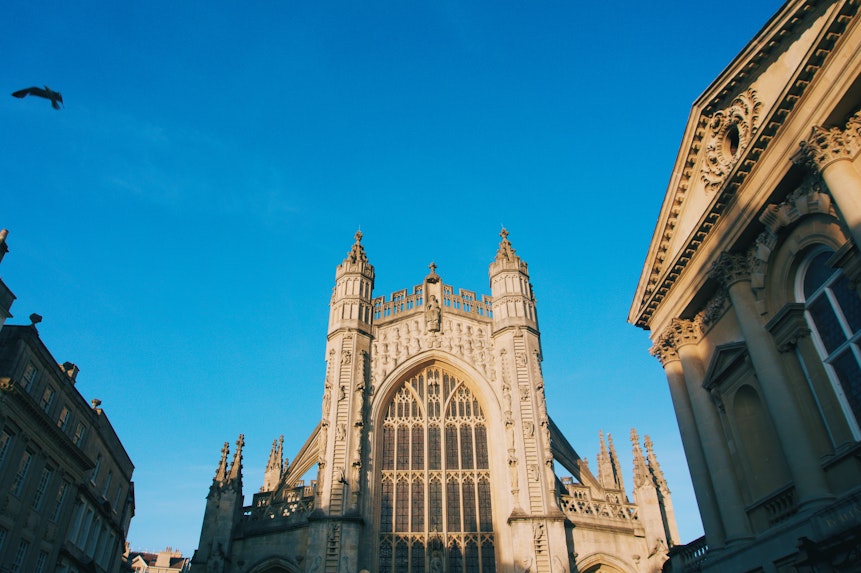 The best time to visit Bath is between June and September. The temperature is pleasant, and there are many outdoor attractions one can indulge in.
Bath is also known for its wide array of different festivals throughout the year, so you can pick the right festival for you and visit around that time.
If you are looking to avoid crowds, March to late May is the best time to visit.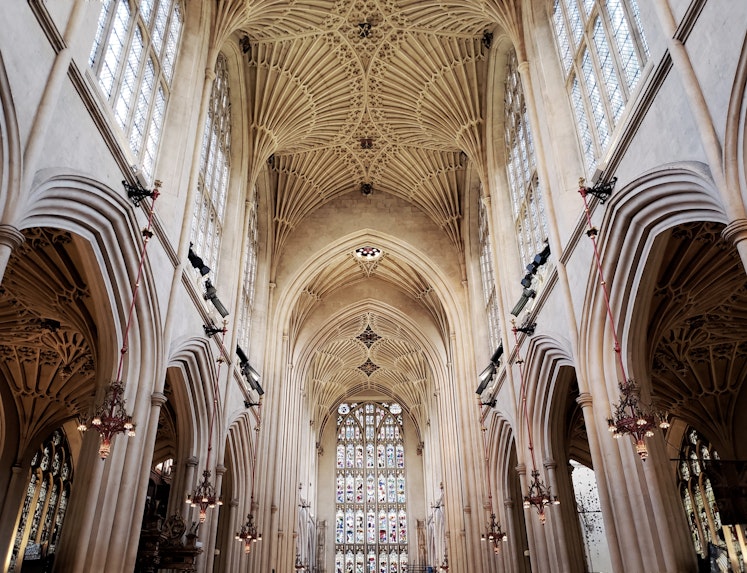 When in Bath, you absolutely have to try the traditional Bath buns. These are sweet buns baked with a whole cube of sugar at the bottom. Other things to try are Bath Oliver biscuits, Sally Lunn's buns, and Bath soft cheese.
If you're looking for a traditional afternoon tea experience, you can head to the Jane Austen Regency Tea Rooms.
Bath also has a vibrant nightlife, so if you want, you can head to one of the many pubs for a quick drink.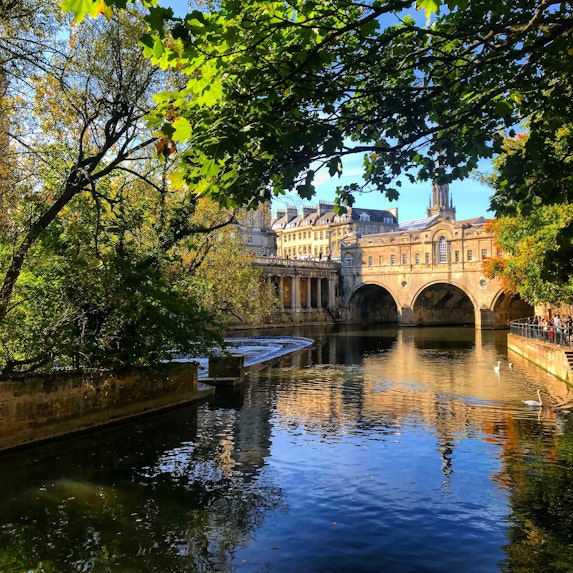 There are a lot of accommodation options should you choose to stay in Bath. It is recommended that visitors stay in the city centre, where most of the landmarks are close enough to walk to. There are many options in Bath based on your budget and preferences - from luxury to budget-friendly. 
You can stay in a bed & breakfast, or a hostel if you're looking to stay in a budget-friendly place. If something mid-range is right up your alley, you can pick from one of the many boutique hotels spread across the city. If you're looking for luxury, Bath is known for luxury hotels with brilliant spas.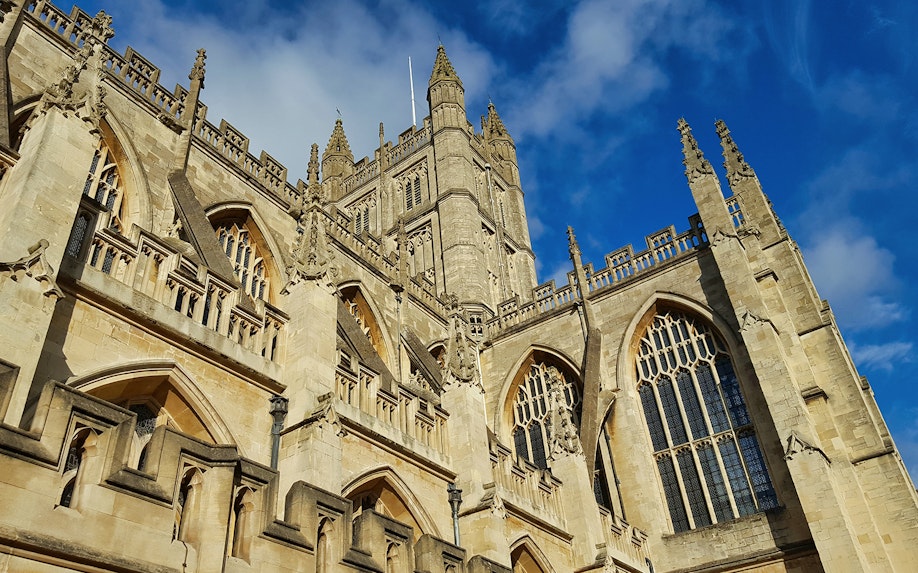 One shopping avenue that tourists must absolutely visit is Pulteney Bridge, which has shops and cafes inside it. Additionally, Bath Artisan Market and Bath Guild Market are popular choices if you're looking for something different. Green Park Station Market and The Roman Baths Shop are two other markets you can visit while in Bath.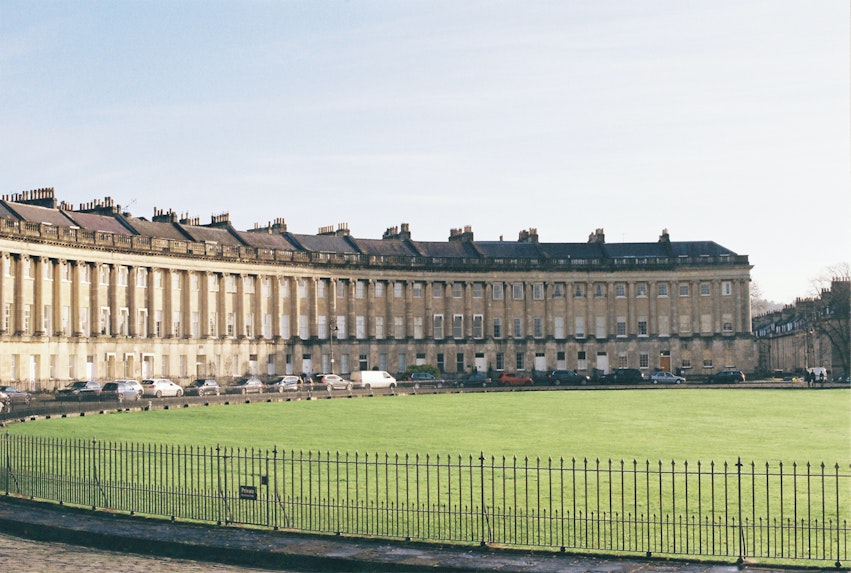 Travel back in time at the Roman Baths.
Visit and shop at Pulteney Bridge.
Discover Jane Austen's world at Jane Austin Centre.
Walk along the Bath Skyline trail and get a different view of the city.
Drink craft beer at one of the many pubs.
Visit the oldest house in Bath - Sally Lunn's - and try their bun.
Admire the Georgian architecture masterpiece that is Royal Crescent.
Explore the Bath Abbey in all its glory.
Visitor Tips for London to Bath Tours
Ensure you wear comfortable shoes for your walking tours. As Bath is located on a hilly region, walking around the city can prove to be quite the workout.
Carry your own mask and hand sanitizer. Keep the mask on at all times on the tour.
Bath hop on hop off is currently operational. It is a great way to cover the attractions of the city at your own pace.
To avoid the crowds, visit the city mid-week. When visiting Roman Baths, try to visit as soon as it opens to avoid any rush.
When in Bath, try the Bath Bun and the Sally Lunn bun, both of which are popular buns in the city.
All Your London to Bath Day Trip Questions Answered
How many days should I spend in Bath?
Bath can be covered as part of a day trip or weekend trip from London, so one-two days should suffice.
What is the cheapest way to get to Bath from London?
Coach is usually the cheapest way to get from Bath to London, but please note that it typically also takes the most time (between 3-4 hours).
What is the distance between Bath and London?
The distance between London and Bath is about 185 kilometers.
Bath is known for its architecture and history. The entire city has been deemed a UNESCO World Heritage Site, as it is just so picturesque and incredible, that it is definitely worth a visit. It is not very far from London, and hence you can visit it as part of a day trip, maybe even along with other locations.
Why should I take a guided Bath tour?
While a guided tour can be more expensive than a self-guided one, it has a lot of benefits for travellers. As part of guided tours, you will be accompanied by a knowledgeable guide who will give you facts about the history of the city, and will answer any questions you have. Additionally, transportation to and from the venue is provided in a guided tour.
What is there to do in Bath, England?
First and foremost, you must visit the Roman Baths. Additionally, Bath Abbey, Thermae Bath Spa, Sally Lunn, and Jane Austen Center are other popular attractions.
How much time should I spend at the Roman Bathhouse?
Visitors typically spend 1.5-2 hours at this attraction.
Is Bath wheelchair-accessible?
Yes. Despite having many old buildings, Bath is accessible to everyone. You can also rent electric and manual wheelchairs in the city as well.
Can I buy my Roman Baths tickets at the venue?
No, it is mandatory that visitors pre-book their tickets.
What are the best Bath tour tickets?
The best Bath tickets are those that include a guided tour of Bath, alongside other venues such as Windsor or Stonehenge.
Which attractions are covered on Bath sightseeing tours?
This depends solely on the sightseeing tour, but some popular attractions include Roman Baths, Bath Abbey, and Pulteney Bridge.