Spend Christmas in London 2023 | Musicals, Themeparks, Christmas Lights, and More!
Contents
London takes you into a magical winter wonderland during Christmas, with glittering lights, decorated streets, pop-up Christmas markets, and cheerful carols all around. Amidst all the glitz and festivities, here's a list of the best things to do on Christmas in London.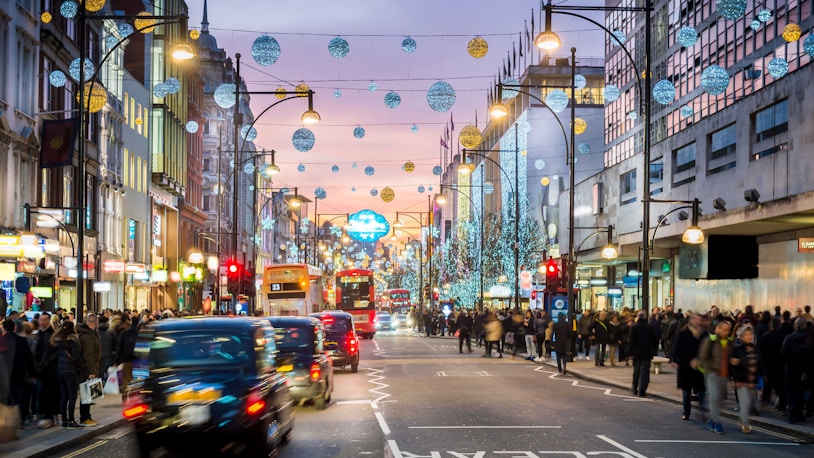 Why spend Christmas in London?
London is one of the most sought-after tourist destinations all year round, but Christmas is definitely 'the most wonderful time of the year' to visit the city.
London paints the perfect picture of Christmas with brightly lit-up streets, festive decorations, fleeting snow, and bustling crowds.
The city has a lot of events happening around the holiday season including Christmas markets, plays, musicals, ballet performances, and much more.
All landmarks and monuments across the city are decked up for Christmas with red, green, and golden-colored decor and festive lighting displays that are quite a sight.
London gives you a chance to experience a traditional Christmas with tree-lighting events, Christmas carols, seasonal delicacies, and more.
London in December
Top 15 things to do on Christmas in London
Plan your Christmas in London
Getting around
Where to eat
Where to stay
Tips for celebrating
No public transport services will operate on Christmas Day. This includes the Tube, buses, trams, river buses, cable cars, and National Rail services.
Alternatives:
Santander Cycles: London's bicycle hire scheme is available 24/7, including Christmas Day. You can find docking stations across the city.
Electric scooter rentals: Some boroughs in London offer electric scooter rental trials, which may be available on Christmas Day. Check the availability and regulations for your specific borough.
Taxis and private hire services: Taxis and private hire services like Uber will be available on Christmas Day. Be prepared for higher fares and potential delays due to increased demand.
Claridge's Restaurant: For an extravagant and traditional Christmas feast, Claridge's Restaurant is the place to be. Their seven-course menu features all the classic trimmings, from smoked salmon and foie gras to roast turkey and Christmas pudding.
Canton Blue at The Peninsula London: If you're looking for something a little different, Canton Blue at The Peninsula London offers a festive Cantonese menu. Their eight-course feast features dishes like Peking duck wraps, Wagyu beef in black bean sauce, and chocolate mille-feuille with five spice crémeux.
The Ritz Restaurant: The Ritz Restaurant is another iconic London establishment that offers a luxurious Christmas dining experience. Their six-course menu is kept under wraps until the big day, but you can expect all the Christmas classics done to perfection.
Gordon Ramsay at Claridge's: Gordon Ramsay at Claridge's is a Michelin-starred restaurant that offers a contemporary and refined take on Christmas dining. Their festive menu features dishes like cured hamachi with yuzu, roast lamb with roasted vegetables, and Christmas pudding with a whiskey sauce.
London is a popular tourist destination, and it can get very crowded during the Christmas season. Be prepared for long lines and waiting times at popular attractions.
You will likely encounter queues at many of the Christmas markets and attractions. Be patient and allow extra time for your journey.
London can get very cold in the winter, so be sure to pack warm clothes. You may also want to pack an umbrella, as it can rain frequently.
London is a magical place to be at Christmastime. The city is decorated with lights, there is Christmas music playing everywhere,
Frequently asked questions about celebrating Christmas in London
Is Christmas a good time to visit London?
Christmas is one of the best times to visit London. The festive season paints a picturesque white Christmas with massive lighting displays, festive Christmas markets, ice skating rinks, fairs, great shopping deals, and maybe some snow.
What are some things to do on Christmas in London?
Admiring festive light displays, ice skating, shopping at Christmas markets, going on city tours, cruising the River Thames, and gorging on festive delicacies are some of the popular things to do in London during the Christmas season.
What is the weather like at Christmas in London?
London during December is generally chilly with average temperatures ranging from 4°C to 9°C. The skies are generally overcast with around 9 days of rain and some snowfall at times.
Is London crowded at Christmas?
Christmas time is the peak tourist season in London. It is advised to book your tickets well in advance to get the best deals and ensure attendance at your favorite shows.
What's open in London on Christmas?
Most of London shuts down on Christmas Day. All large shops, shopping malls, offices, services, public transport, etc. remain closed for Christmas. Apart from hotels and fancy restaurants serving Christmas lunches and dinners, most local convenience stores, some bars, restaurants, and cafes would be open.
What is the most popular Christmas market in London?
The most popular Christmas market in London is at the Winter Wonderland in Hyde Park. The other equally popular ones include the Covent Garden Christmas Village, Leicester Square Christmas market, Selfridges Christmas Market, and Southbank Centre Winter Market.
Are restaurants open on Christmas in London?
Most restaurants, cafes, and bakeries in London are open on Christmas Day. Some of them even offer Christmas set menus, festive dishes, and special offers to celebrate the day.
What are the best places to stay in London on Christmas?
What should I eat in London on Christmas?
Christmas pudding, mulled wine, hot chocolate, and Bavarian beer are some of the must-try seasonal favorites in London.
What are the best restaurants for Christmas in London?
Le Pont de la Tour, Skylon at South Bank, Madera at the Treehouse Hotel, Ronnie Scotts at Soho, The Grill at the Dorchester in Mayfair, Cinnamon Kitchen, Searcys at The Gherkin, St Pancras by Searcys at King's Cross Station, are some of the best restaurants in London for Christmas lunches, dinners, and festive delicacies.
Where can I see the Christmas lights in London?
The best of London's Christmas light displays can be seen at the Kew Gardens, Piccadilly, Seven Dials, The Shard, and the shopping streets of Covent Garden, Oxford Street, Regent Street, Carnaby Street, and Mayfair.
What are some Christmas traditions in London?
Christmas traditions in London include watching public Christmas tree lighting ceremonies, visiting Christmas markets and the Winter Wonderland, going ice skating, and attending Christmas special plays, musicals, ballets, carols, and movie screenings.