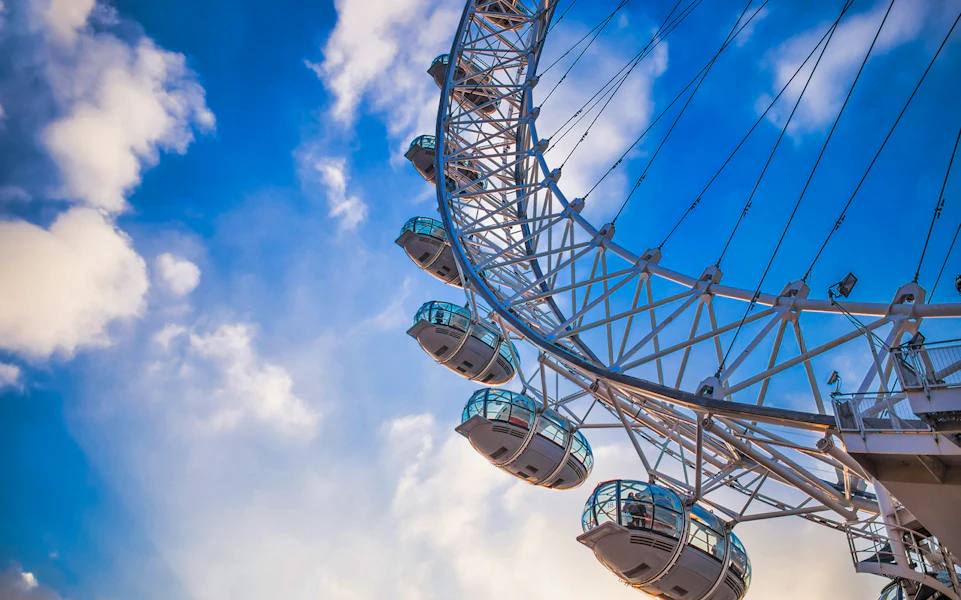 London Eye - Opening Times
London Eye Opening Times
What are the London Eye opening times?
The London Eye is open:
Daily: 11 AM - 6 PM
London Eye Duration: The standard London Eye ride lasts for 30 minutes.
London Eye Closures: The London Eye will be closed on Christmas Day and during the annual maintenance period.  
Discover all about the London Eye history, architecture, interiors and more before visiting the iconic landmark.
Best Time to Visit the London Eye
The London Eye is almost always busy, considering how popular it is among tourists and locals alike. School holidays and peak holiday seasons are best avoided. The early London Eye opening times from 11:00 AM to 3:30 PM has a lot of crowds, so it's best recommended to go right when the London Eye opens or just before it closes. 
November, December, and August see the highest rainfall in London hence check the weather forecast before setting out on your ride. A hazy and rainy day is no good for an observation wheel! 
Summers are a great time to visit the London Eye - with the sun shining bright allowing you to see up to 30 miles into the horizon. Another great time to visit the London Eye would be around dusk, the city soaked in golden light.

Plan your visit to London Eye in advance to make the most of your experience.
London Eye - Getting There
Around the London Eye
Apart from visiting the UK's millennial landmark, the city of London has lots of thrilling attractions to explore. Check out the top must-visit destinations around the London Eye.
London Eye Timings: FAQs
Q. Is the London Eye open post COVID-19?
A. Yes, the London Eye has opened post-COVID-19 with effective safety guidelines put in place.
Q. What are the London Eye opening times?
A. The London Eye is open:
Daily: 11 AM - 6 PM
Q. What is the duration for the London Eye experience?
A. The standard duration for the London Eye experience lasts for about 30 minutes
Q. Has the London Eye opening times been extended for night ride?
A. In light of the current COVID-19 situation, the present London Eye opening timings have only been extended until 6 PM.
Q. What is the last time slot to board the London Eye?
Q. The last time slot for the London Eye is currently at 5:30 PM.
Q. Is it better to visit London Eye during the day or evening?
A. The weather in London is pretty unpredictable. If you're visiting on a day with dark clouds and rain, it would be difficult to enjoy the view. It is advised to visit in mid-June as you'll have daylight until 9 PM giving you lots of time to enjoy the panoramic view.