Boat Trips to Hampton Court Palace | Tickets, Timings, Route & More
Contents
Once Henry VIII's most famous residence, the Hampton Court Palace is a must-visit during your visit to London. Five centuries later, the palace still houses a large number of arms, ostentatious fine art, and tapestries from the bygone era. Additionally, it is famous for its gardens, maze, the annual Hampton Court Palace Festival, and Hampton Court Palace Flower Show. For those who wish to skip the crowds and explore at a leisurely pace, the Hampton Court Boat Ride is a great option. Read on to learn all about Hampton Court Boat Rides, timings, duration, and more. 
Why Take a Hampton Court Boat Ride?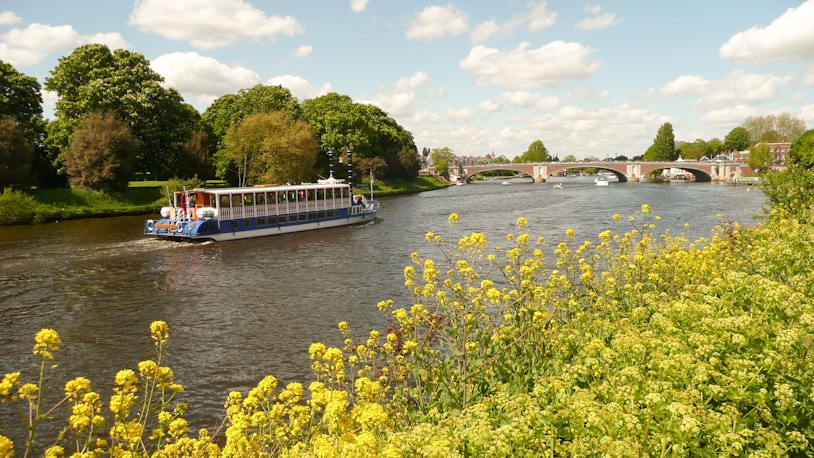 In addition to public transportation like buses and trains, you can also set sail on the famous Thames River by getting a boat ride or cruise service to the Palace.
The Hampton Court Boat trips take only an hour to pass through the famous Teddington Lock and Kingston upon Thames before coming to a stop at Hampton Court. The cruise, on the other hand, can take up to 3.5 hours with a 30 minute stop at the Palace.  
Plan Your Visit To Hampton Court
Hampton Court Boat Ride Routes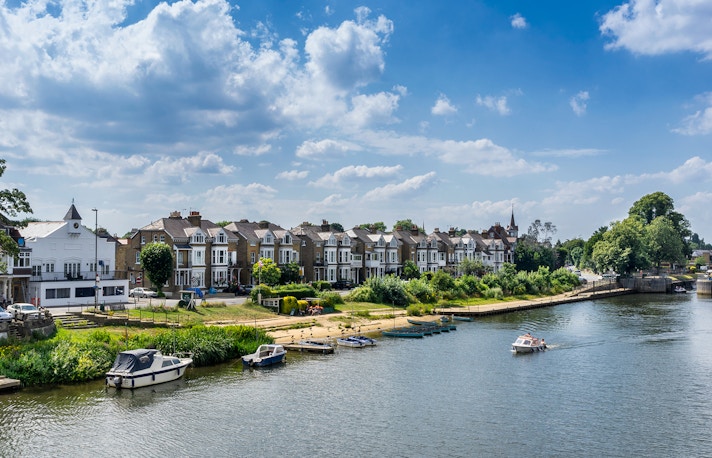 Kew, Richmond & Hampton Court 
Timings: 11.15 AM and 2 PM
Duration: 3.5 hours
This downriver cruise takes passengers through the beautiful Teddington Lock & historic Kingston upon Thames and allows them the chance to get off Hampton Court and explore. Passengers can also disembark at Kew Pier. While you won't be able to see everything at Hampton Court Palace in 30 minutes, you can visit the key highlights like Tudor Palace, the garden, and the Maze. 
Additionally, the Hampton Court Boats are traditional passenger boats that come with a fully licensed bar, restaurant, and toilet facilities. So, the trip itself is quite enjoyable.
Westminster - Kew - Richmond - Hampton Court 
Timings: Subject to availability
Duration: 3 hours
Between April to October, you can find two cruise trip services to Hampton court. These trips cover the majority of the points in both directions on the river. So, if you wish to explore Hampton Court, you'll have to organize accommodation nearby or figure out another way to get back to London. 
This trip will cover essential points starting from Westminster Pier to Kew Gardens and through Richmond and Kingston before arriving at Hampton Palace. Now, if you wish to spend a whole day at Hampton Court, you can get additional services for the one-hour trip to the palace at Richmond.
Hampton Court Boat Ride View
Hampton Court Boat trips allow you to check multiple places off your London bucket list as it covers the majority of the key highlights. Here are few of the attractions that is covered on the boat ride: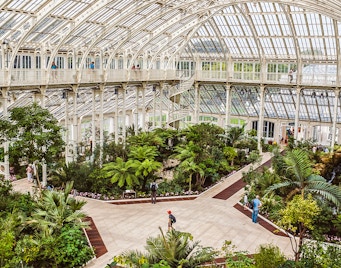 Kew Gardens
Kew Gardens is a 300-acre botanical garden that is home to one of the largest collections of flora and fungi. The UNESCO World Heritage site boasts over 50,000 different kinds of living plants. You can even relax at the various cafés and restaurants.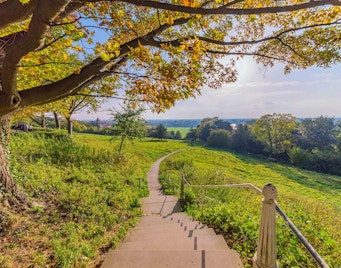 Richmond Park
Richmond Park is one of the city's eight Royal Parks and covers a massive 2500 acres of land. It is home to many ancient trees and a huge range of rare species of fungi and fauna and also features the famous Tamsin off-road cycle Trail and Isabella Plantation woodland gardens.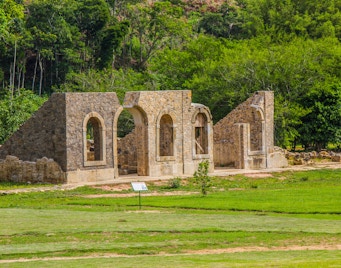 Syon House
The Syon House, the home of the Duke of Northumberland, is one of the last great houses of London. With over 400 years of history, this house features some amazing architecture, a wealth of art and history within its walls. It also has a 200-acre park that you can walk through.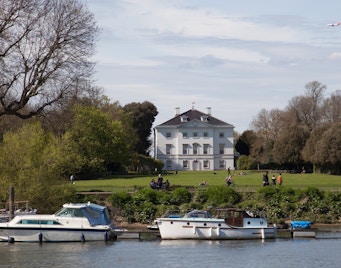 Marble Hill House
Built for Henrietta Howard, mistress of King George II, the Marble Hill house paved the way for architectural advances. Its design has more or less become the standard model for the Georgian English villas and plantation houses in the American colonies.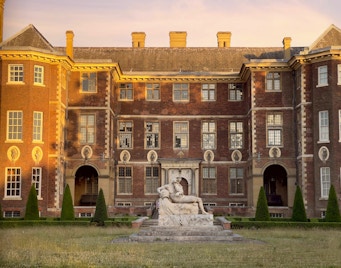 Ham House and Garden
Ham House is another famous 17th-century house that's located in Richmond upon Thames. In addition to its famous gardens, this Stuart mansion is also recognized for its collection of furniture, textiles, and art. Most importantly, it's considered to be one of the most haunted houses in Great Britain.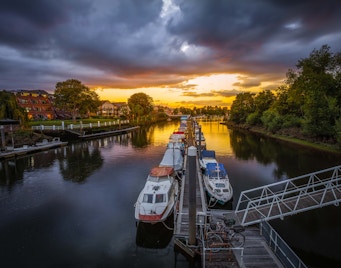 Teddington Lock 
Teddington Lock is a famous and complex lock on the river Thames that consists of three separate locks and a weir. You'll be able to pass through it on your Hampton Court Boat ride as it's situated between Ham and Teddington. This historical Lock was built in 1810. So, keep those cameras charged.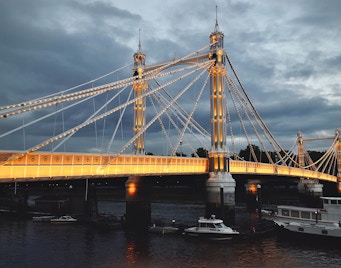 Albert Bridge 
This famous bridge/monument was built in 1859 and is located on the Thames River. The Royal Albert Bridge is a railway bridge that's of immense cultural significance, so much so that it is featured on the UK £2 coin. Except for Tower Bridge, Albert Bridge is the only Thames road bridge in central London never to have been replaced.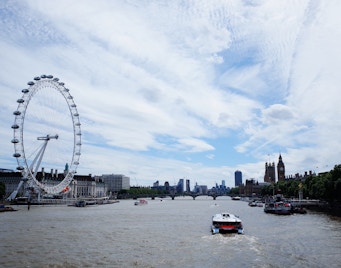 London Eye
The London Eye or the Millennium Wheel is a massive observation wheel that's located on the bank of the River Thames. Additionally, It also happens to be Europe's tallest observation wheel and has over 3 million visitors annually. It takes a whopping 30 minutes for one trip!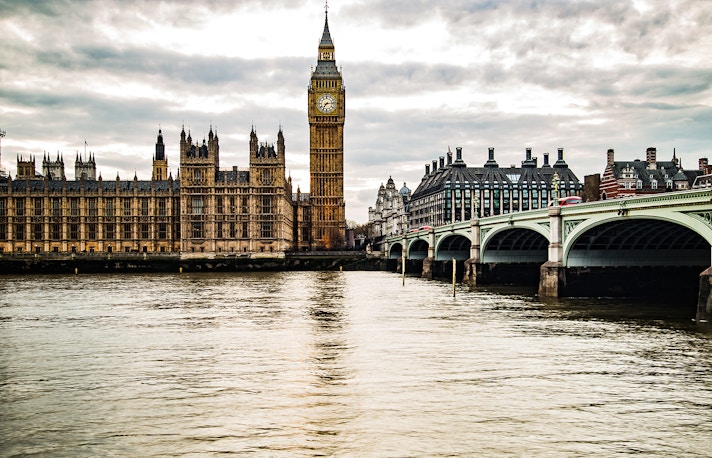 Palace of Westminster
The Palace of Westminster is the famous House of Parliament. It is the meeting place for not only the House of Commons but also the House of Lords. Named after the neighboring Westminster Abbey, this historical Palace is situated on the River Thames.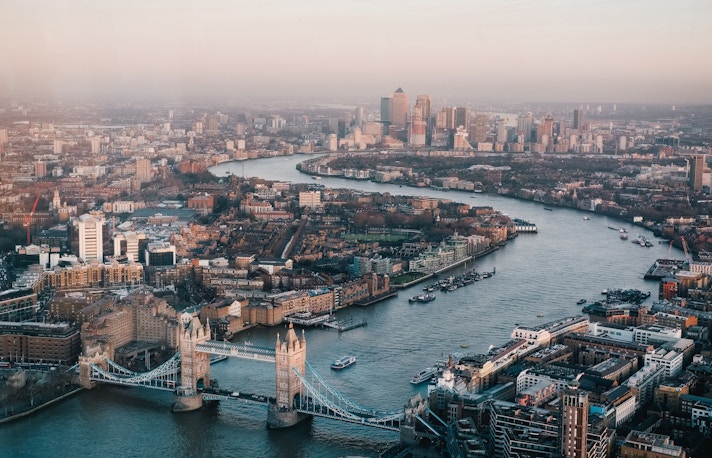 Lambeth Palace
The Lambeth Palace has been the official London residence of the Archbishop of Canterbury for nearly 800 years. This beautiful palace is located on the south bank of the River Thames and is a mere 400 yards from the Palace of Westminster. 
Book Your Hampton Court Palace Tickets