Gardens at Hampton Court Palace | Tickets, Timings, Highlights & More
Contents
This historic garden, of the Hampton Court Palace, is a testament to the artistic genius that flourished during the renaissance. It dates back to the 1520s and has been passed down over generations until finally, Queen Victoria conferred the palace and its gardens on the British Government in 1838. The garden extended and morphed into styles representative of its owners every time it was passed down. Today, this spectacular garden has 750 acres of parkland with 60 acres of formal gardens, set within a loop of river Thames.
Why Visit Hampton Court Gardens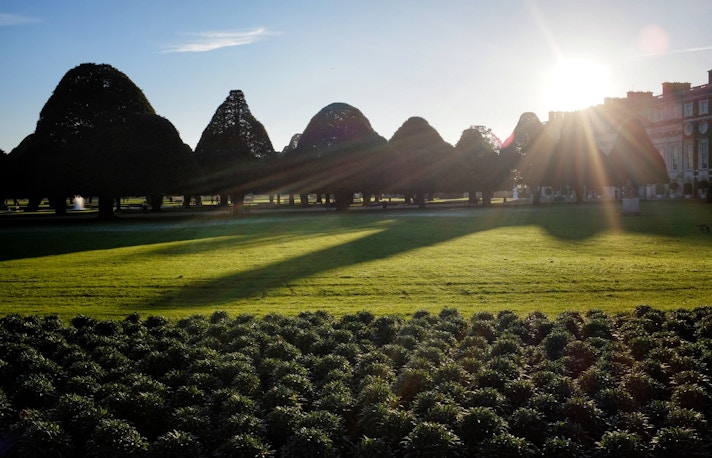 The Great Fountain Garden is an elegant addition to the garden's East Front, by William III and Mary II (1689-1702). The 13 beautiful fountains here, surrounded by Yew Trees, and emitting a low whooshing sound, is a treat for all the senses.
Experience The Great Flower Garden where colorful displays of flower bedding are dotted across the grounds.
The Privy Garden, intended to be a quiet recreational space, stands today as an Italianate-style garden displaying classical statues by art collector Charles I.
Witness a glasshouse comprising, supposedly, the world's oldest and largest grapevine called the Great Vine.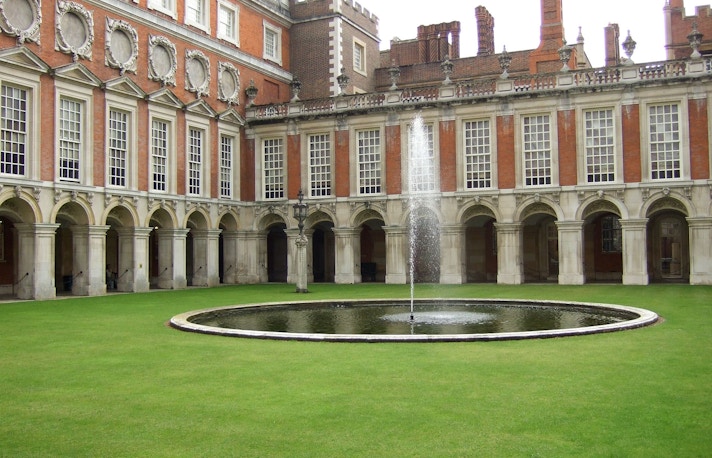 Ever wondered how the royal dine? The Royal Kitchen Garden here grows fresh produce, fruits, and vegetables, fit for the kings.
The Tiltyard was originally a tournament area here. Today, it stands as a visitor's area with a tea house, Tiltyard Cafe, and a tennis court.
The Maze is the most culturally famous part of the Garden. This grass-clad human-size maze is a fun brain teaser and has had many people stuck inside it grappling their way out.
The Pond Gardens on the south end has a collection of exotic plants from all over the world. They were collected by Mary II and given haven here.
Things to See at Hampton Court Gardens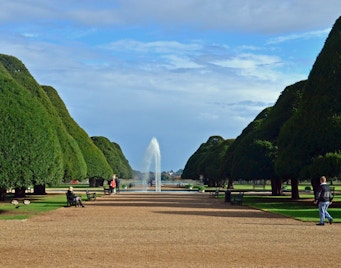 The Maze
This is the oldest hedge maze in the UK constructed in the 1700s by William III. It is a Yew clad maze, with sharp twists and turns, bound to keep those who brave it scratching their heads. The maze has also featured in the popular British satirical novel Three Men in a Boat.
Know More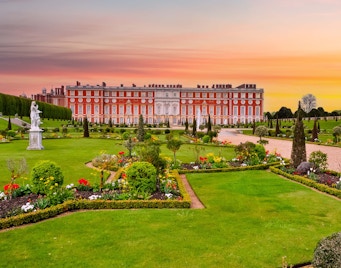 The Great Vine
 This is the largest and arguably the oldest grapevine in the world dating back 250 years. It was planted in 1768 when Lancelot Brown was in charge of the Gardens. Once only consumed by the royal family, these grapes are often sold to visitors in peak season. The grapes are not sour indeed!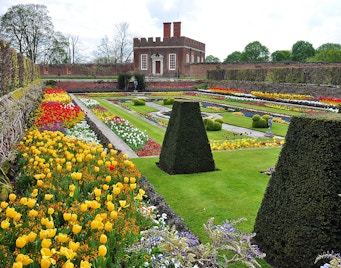 National Plant Collection
This plant collection harbors 3 heritage collections, Heliotropium, Lantana, and Queen Mary II's Exoticks. All of these collections are a treat for sore eyes. While the former two are newer collections, Mary II's Exoticks have sustained through a couple of centuries. Conservation of these exotic species is continually underway here.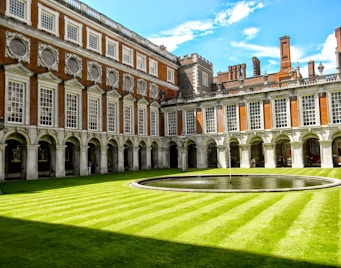 The Magic Garden
This children's garden was opened by the Duchess of Cambridge in 2016 inspired by Tudor's motifs and legendary heraldic creatures. This area contains child-friendly planting, towers and walkways, and a ferocious steam-breathing dragon as well! It is a treat for children to be lost in this fantasy land.
Know More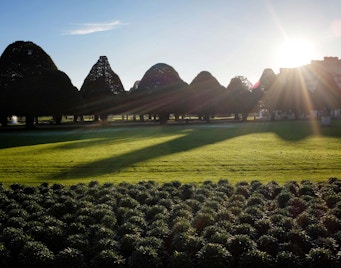 The Royal Kitchen Garden
This garden grew food fit for the royals during William III's time. During Queen Victoria's reign though, it opened to visitors, turning it into more of an herbaceous garden. Eventually, it was turned back into the garden for the Royal Kitchen, where fresh produce is on sale once a week.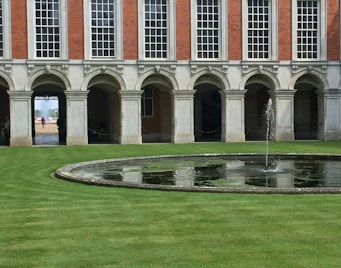 The Wilderness
This carefully manicured wilderness was once the formal pleasure garden for Charles II. Today, it is an everblooming 60 acres of wild meadow with beautiful cherry trees and chirping birds. This wilderness is especially beautiful in early April when over a million daffodils and other bulbs bloom!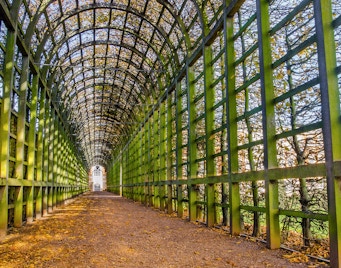 20th Century Garden
This serene area is rife with glorious trees including Eucalyptus, Paperbark Birch, and Paperbark Cherry. This is literally the hidden gem of the garden tucked away in a quiet corner. Originally this area was intended to be the Home Park but was later turned into an arboretum, a botanical tree collection.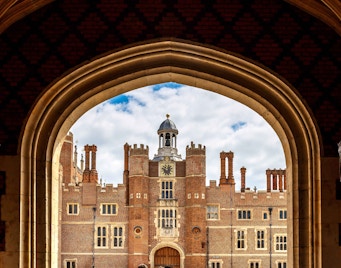 Privy Garden
Privy or Private Garden had been a part of the south side in William III's reign in 1702. The area has been using the accounts of the original workers as a blueprint. This is one of the most accurately reconstructed gardens with trees and bushes manicured to perfection.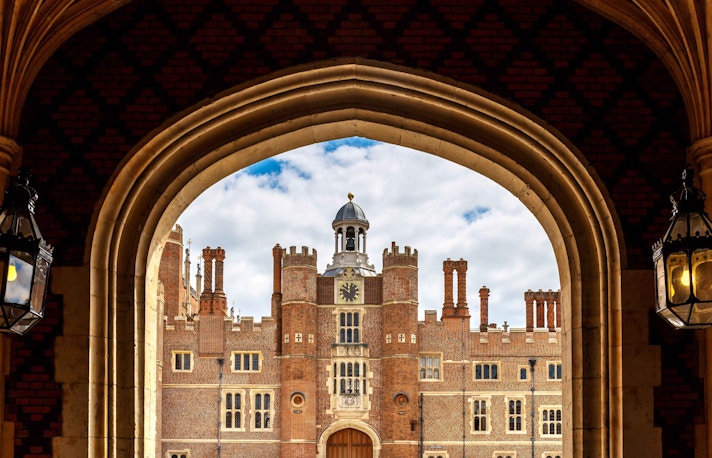 Pond Gardens
This area originally had fish ponds made for Henry VIII. It was later transformed by Mary II into a sunken garden to display her exotic plants. This garden is a highlight of the Hampton Gardens with the vivid colors of tulips that engulf the place in the summers.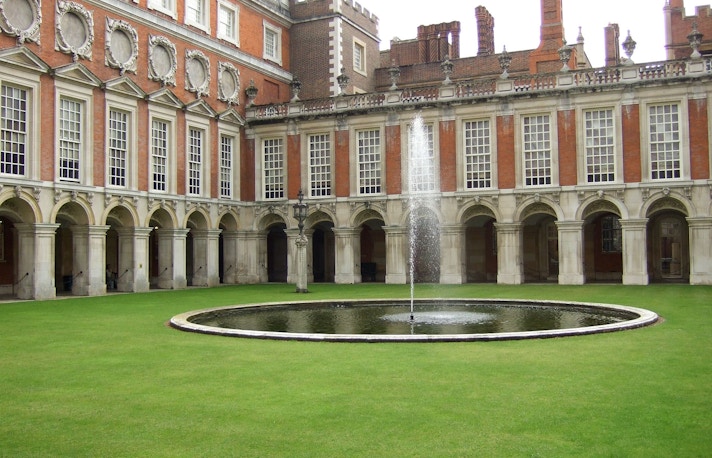 Rose Garden
Explore the magnificent variety of roses that bloom in this garden nurtured by gardeners for over 80 years. The area was once William III's vegetable and herb garden. It was later turned into a kaleidoscope of colorful and sweet smelling rose garden. It flaunts several exotic varieties of roses, each coming together to make a stunning spectacle.
Book Your Hampton Court Palace Tickets