RHS Hampton Court Palace Garden Festival 2022 | World's Largest Flower Show
Contents
The Royal Horticultural Society (RHS), UK's leading gardening charity, was founded in 1804. The RHS is known to promote horticulture through its five gardens across the UK and even provide training for gardeners. Additionally, they are quite famous for their annual Chelsea Flower Show, Tatton Park Flower Show, Cardiff Flower Show, and most importantly, the world's largest flower show: Hampton Court Palace Flower Show.  
The Hampton Court Flower Show is always conducted annually at the famous Hampton Court Palace. Other than show gardens and Floral Marquees, this festival showcases gardening experts, musical artists, performers, talks, demonstrations, amazing food, and much more. 
Things to Know About Hampton Court Flower Show 2022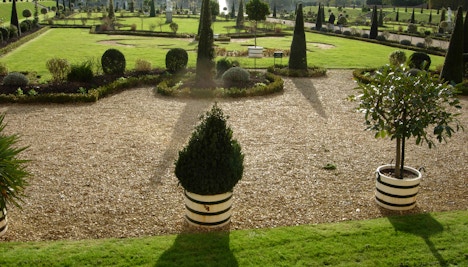 When will Hampton Court Flower Show close?
Hampton Court Palace will be open throughout the year except for certain special occasions. The Hampton Court Flower Show, on the other hand, will close after 7 PM from Monday 5th July to Saturday 10th July and at 5 pm on Sunday.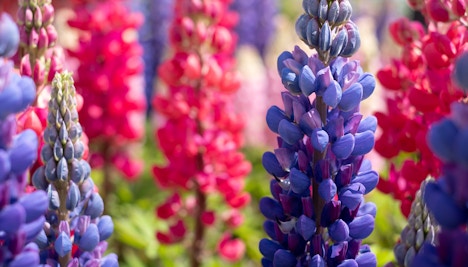 How long should I spend at Hampton Court Palace Flower Show?
We recommend that you spend at least 3- 5 hours on the Hampton Court Flower Show and its attractions. We also recommend you set aside 1-3 hours to visit the palace itself. Ideally, you should put aside two days for the flower show as this will help you cover everything at a more comfortable pace. What is the best time to visit the Hampton Court Palace Flower Show?
The best time to visit the Hampton Court Palace Flower Show would be the morning hours on the weekdays. This will help you get a head start on the day and help you cover the majority of the attractions. 
However, we recommend you split your visit across two days if you want to move at a leisurely pace. 
Hampton Court Palace Flower Show Location
Address: Hampton Court Palace, Hampton Ct Way, Molesey, East Molesey KT8 9AU, United Kingdom
Find on Map
The Hampton Court Palace is located about an hour away from the city of London. You can reach here on your own by a car or you can catch a boat, train or coach. You can also reach the palace on a bicycle.
Top Things to Do at Hampton Court Flower Show 2022 Gardens for Everyone
The show gardens are going to be the primary highlight of the flower show. The entire Hampton Court Palace will be filled with all kinds of beautiful and inspirational gardens. The garden designers will also feature listings of their amazing plants. So, you can purchase them after the show. Of course, you can walk around and take in the beauty as well.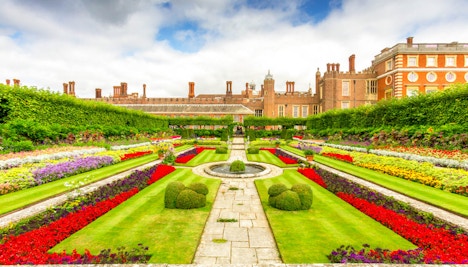 Floral Marquee and Plant Village
Visiting the Floral Marquee and the Plant Village is an absolute must. Not only will the vibrancy of the flowers add some marvel to your trip but the fragrance will delight you. Additionally, you can get some trade secrets from expert gardeners.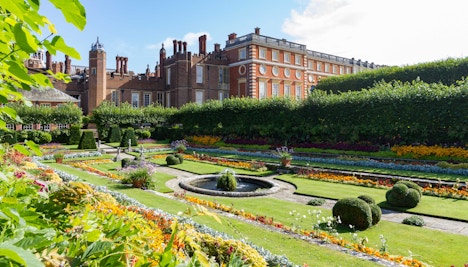 The Festival of Roses
One of the major highlights of the show is the Festival of Roses. Most importantly, sit in the middle of the rose garden and enjoy high tea. Experience what it feels like to be back in the Edwardian era. Live Music
One of the more popular things to do at the Palace Stage is to catch a live performance by the grandstand band and other artists. You can even set up a picnic and vibe to Louise Golbey, Stone Jets, and Kadija Kamara. The Woodland stage is even set to feature a few local artists. So, the trip is worth it. Be sure to keep track of the events on the timetable. Talks & Demonstrations
The Royal Horticultural Society's flower show also features various talks and demonstrations from industry experts across multiple stages. These speakers cover a wide variety of topics ranging from creating your very own bouquets and gardening to mixing a cocktail. The guest speakers include Dame Mary Berry, Michelin-starred chief Jean-Christophe Novelli, and Mr. Plant Geek to name a few. Unique shopping
Like most festivals, the Hampton Court Flower Show is filled with trade stands that offer not only plants and gardening tools but also trinkets and artisan products. For example, there is a Country Living Pavilion that sells all kinds of gifts and goodies.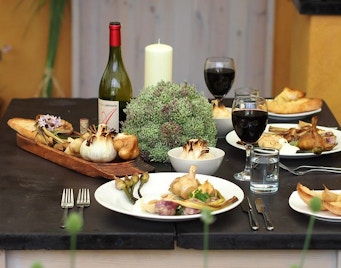 Food & Dining
Although the flowers are the primary highlights, 2022's Hampton Court Flower Show offers amazing culinary treats. There are four eateries and several food stalls that offer a range of delicious food. Additionally, there is a picnic hamper option if you want a break from all the walking.
Plan Your Visit to Hampton Court Flower Show
Pre-Book Your Tickets
Getting There
Facilities
Accessibility
Dining
Nearby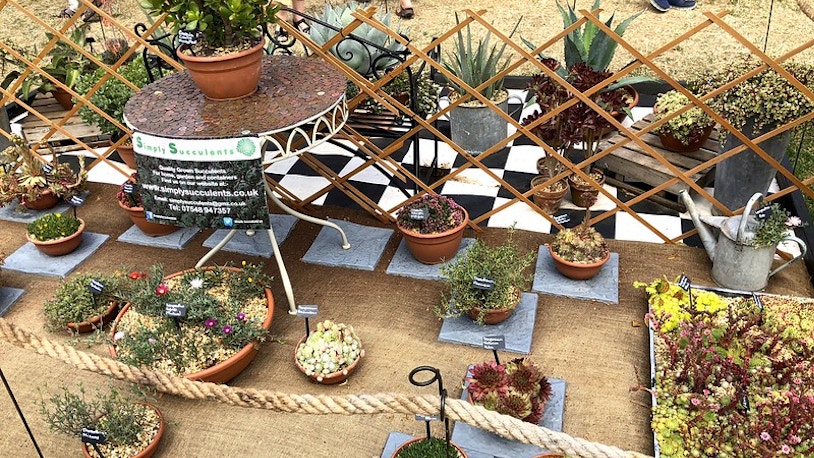 The Hampton Court Flower Show is a ticket attraction, which means that you will have to buy a ticket to get an entry into the flower show.
You can buy your online tickets to Hampton Court Palace here. You can show your mobile tickets at the entrance to redeem them. Make sure that you have a valid ID proof.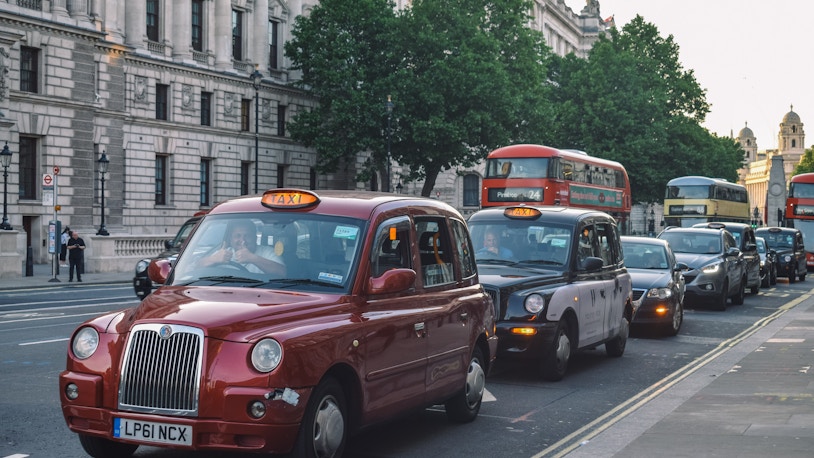 Car: Take the M25 (A308) or the A3 (A309) from central London. As there is no specific location on the navigation, we recommend you set the closest village to East Molesey, KT8 9AU.
Cycle: Bicycle racks are available at the Thames Entrance and the Long Water Gate Entrance.
Boat: You can commute by ferry on the River Thames from Kingston Bridge or Richmond to the Hampton Court station
Train: Hampton Court is the closest train station to the Hampton Court Flower Show. It is a 30-minute ride from London Waterloo station.
Coach: You can take a coach to the Hampton Court Green car park.
Know More About Getting to Hampton Court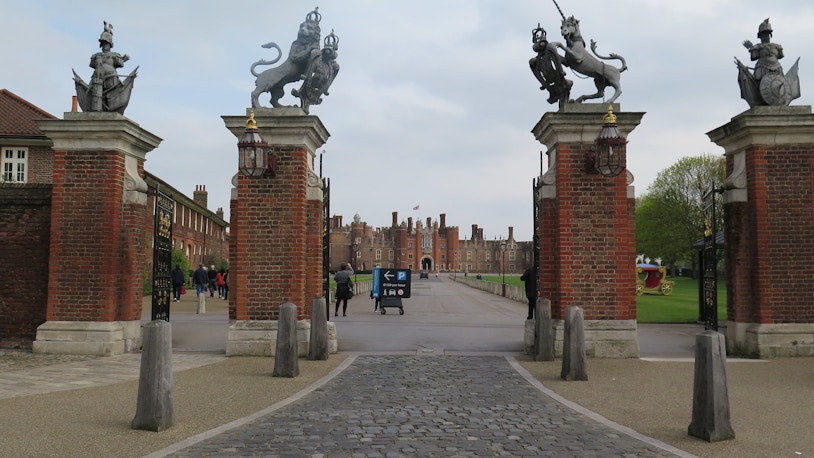 There are unisex public toilets at the entrances and throughout the show. 
Baby changing and feeding facilities are available.
The Visitor Information Centre near the Thames gates also doubles as the lost and found.
There's provision for picnics in the form of seating areas along the Long Water. 
You can park at either Hampton Court Green car park or Tiffin car park. You can park at Stud Gate Car Park on A308 Hampton Court Road if you have a disability. However, you will need to book in advance.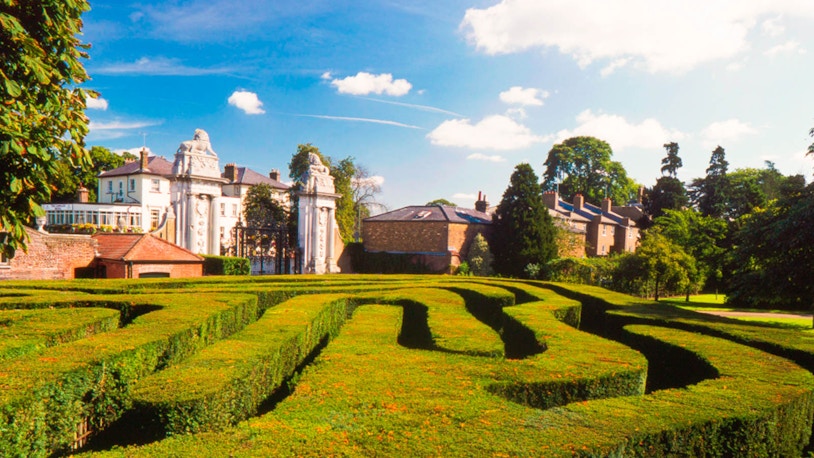 Accessible public toilets are located at both entrances and several other locations.
All buildings, attractions, and structures are wheelchair accessible.
A limited number of wheelchairs and mobility scooters can be purchased or hired.
Assistance dogs are allowed in all areas of the Flower Show.
One carer for the disabled visitor is allowed free of charge. 
There are large print maps that can be found at various points to help the visually impaired. There are also hearing loops at Dig a Live and the Festival Stage for the hearing impaired. Dig In Kitchen: Great place to grab some lunch. Indoor and outdoor seating available. 
Rose Tea Garden: Perfect for breakfast or afternoon tea.
The Waterside Restaurant: They offer a traditional three-course meal that will tickle your taste buds.
Waterside Hampers by Fortnum & Mason: If you're looking to have a picnic with your family at the flower show, Fortnum & Mason will make it happen for just £95.
Long Water & Thames Delis: They have a wide selection of snacks and sandwiches.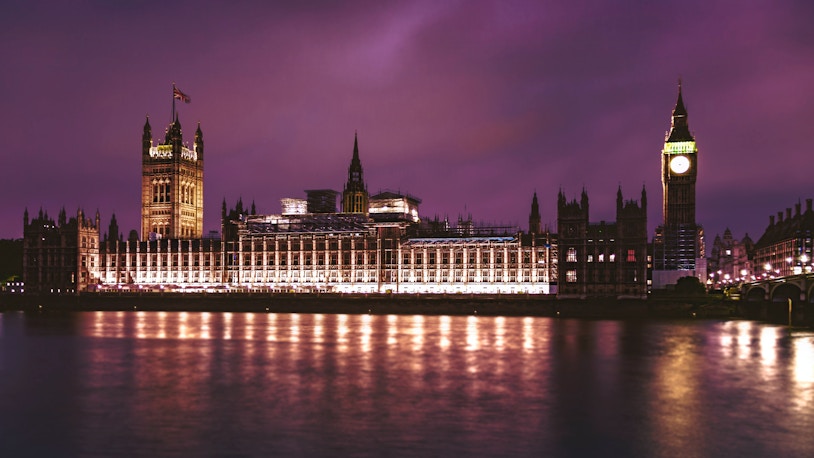 There are many other palaces and attractions in London that you can visit apart from Hampton Court Palace.
Kensington Palace: Find out where the Duke and Duchess of of Cambridge live at the Kensington Palace.
Westminster Abbey: Known as the Royal Peculiar, Westminster Abbey has been home for all British Royal coronations since 1066.
Tower Bridge: One of the five bridges over River Thames, the Tower Bridge is a fascinating place where you can observe the movements of boats and ships.
St Paul's Cathedral: Being the largest cathedral in all of London, St Paul's Cathedral offers some gorgeous panoramic views of the London city.
Book Your Hampton Court Palace Tickets