Leeds Castle Kent: The Loveliest Castle in the World
Contents
Known as the Garden of England, Kent is home to a stunning coastline, gorgeous countryside, and a few world-famous attractions. From classic castles to historic hideaways up to fun coastal towns, this city has a lot to offer. And of course, Leeds Castle Kent is one of the highlights of this sizable county. A former royal palace, Leeds Castle is one of the most enchanting medieval castles in England. A natural lake and 500 acres of beautiful parklands and gardens surround the castle. With over 900 years of history and many attractions, this castle is perfect for a family visit!
Leeds Castle Kent: Highlights 
Leeds Castle is in Kent, around 7 km from Maidstone and 60 km from London.
The first stone of Leeds Castle Kent was erected in 1119 by Roberty, Hamo de Crevecoeur's grandson. 
Leeds Castle Kent became a royal residence in 1278 after it was acquired by King Edward I's Queen, Eleanor of Castile.
Leeds Castle is often referred to as 'The Castle of Queens, Queen of Castles' as six queens had their primary residences here during the Middle Ages.
It became a private residence in the 17th century under Robert Smythe.
The castle houses a painting, 'Field of the Cloth of Gold', of a famous owner named Henry III that shows his meeting with the French King Francis in 1520. 
Lady Baillie completely transformed Leeds Castle interiors into a 20th century, luxury mansion. She hired two architects for this job - Armand-Albert Rateau and Stephane Boudin.
The venue hosts a number of events throughout the year. Leeds Castle Christmas is especially famous!
Leeds Castle History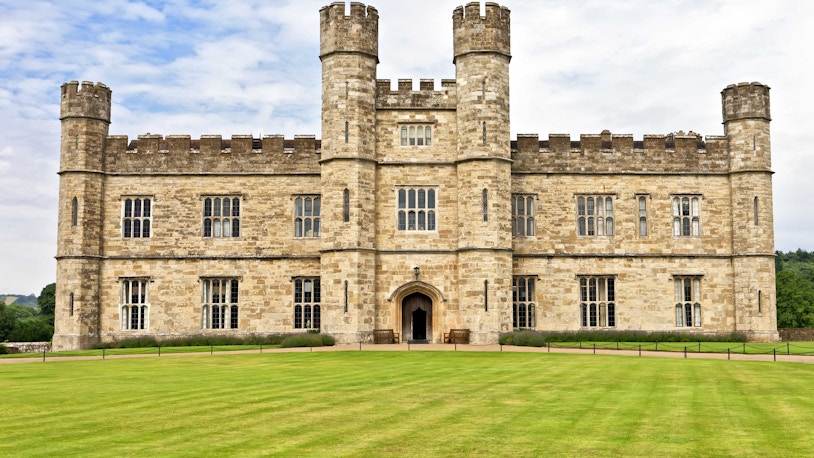 Leeds Castle's history is quite fascinating and it dates back to over 900 years. The first stone of the castle was placed in 1119 by a Norman baron, Robert de Crevecoeur on an island in river Len. In 1278, the Queen Eleanor of Castile, wife of Edward I, acquired the castle.
Over the next 300 years, the Castle remained a royal residence for different kings and queens. In 1552, Anthony St. Leger received the castle from Edward II in recognition of his services in the battle against the uprising in Ireland. 
Leeds Castle Kent turned into a private residence in the 17th century. It was a Jacobean country house, a Georgian mansion, a 20th-century retreat, and a popular historic building in Britain in the 21st century. When Lady Baillie died in 1974, the castle was left to a charity named the Leeds Castle Foundation. Their main task has been to preserve the castle for future generations.
Leeds Castle Interior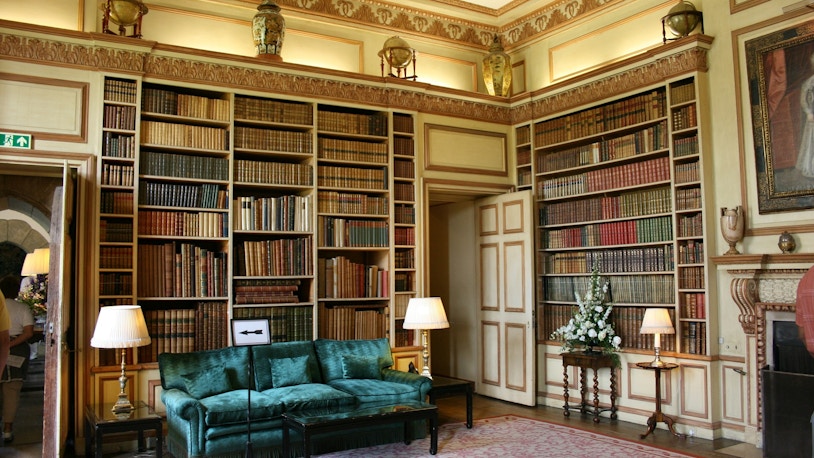 As you enter Leeds Castle Kent, you will come across the 13th century Banqueting Hall. This is the largest room in the castle that features the Tudor fireplace and the 'Field of the Cloth of Gold' painting. The rooms inside the castle reflect two themes – the Medieval period and the Tudor dynasty. 
The Gloriette is the oldest part of the new castle. It includes the banqueting hall, the cellar, queen's bed chambers, and the chapel. These rooms have been furnished to look like they did in the royal days. Once you pass the chapel, you enter the New Castle where you can see the living quarters of Lady Baillie.
Stay At Leeds Castle Estate
Things to do and see at Leeds Castle Kent
Gardens
There are three main Leeds castle gardens to explore. These include Princess Alexandra Gardens, The Lady Baillie Mediterranean Garden Terraces, and The Culpeper Garden. Each garden is home to specific kinds of flowers.
Maze
The Leeds Castle Maze is set in a square that looks circular from a mound or air, making it difficult to solve it. There are 2,400 yew trees in this maze and an underworld grotto in the middle of the maze helps you return to the world. 
Playgrounds
Leeds Castle playgrounds are perfect for kids of all ages and are divided into two adventure playgrounds. Knights' Stronghold Playground includes a castle, climbing walls, giant cargo nets, and zip wires that make it ideal for kids between 6 - 14 years. Squires' Courtyard Playground is ideal for kids ages 6 and under as they can play in sandpits, slides, climb the castle turrets, and more. 
Falconry
At Leeds Castle, falconry displays take place in the Falconry area where you can see a variety of birds such as Falcons, Hawks, and Owls. There are several falconry experiences available at the castle for visitors.
Leeds Castle Kent: FAQs
Is Leeds Castle Kent open now?
Yes, Leeds Castle in Kent is currently open to visitors.
Is it worth visiting Leeds Castle?
Leeds Castle Kent is the 'loveliest castle in the world' and worth a visit. It is set on two islands on a gorgeous lake and has been a Norman stronghold, a royal residence, and a royal palace. Set over 500 acres, this castle comes with a maze, aviaries, vineyards, grottos, and waterfowls and is a great place for tourists to visit.
Which year was Leeds Castle built in?
The construction of Leeds Castle in Kent started in the year 1119.
What can I do at Leeds Castle Kent?
Leeds Castle Kent is a beautiful castle that is fun to visit for all ages with lots of things to do. At this castle, you can delve into 900 years of history, play in the adventure playgrounds, explore the gardens, and learn about falconry.
What measures are in place to ensure visitor safety at Leeds Castle Kent?
There are many security and safety measures are in place at Leeds Castle Kent. This includes cashless transactions, installation of sanitization stations, face masks, and social distancing.
What can kids do at Leeds Castle Kent?
There are a lot of things for kids to do at Leeds Castle Kent. They can learn the history of this castle, get lost in the Leeds castle maze, and play in the Leeds castle playgrounds.
What are the best things to do for families visiting Kent Leeds Castle?
Families can participate in a host of events. The falconry display and the castle tour are also very interesting for people of all ages!
What are the best things to do for couples visiting Leeds Castle in Kent?
Couples are bound to enjoy the Open Air theatre and Leeds Castle Christmas. Additionally, the Leeds Castle Maze is a favourite with couples!