Visit Leeds Castle: Opening Times, Getting There, Location and more
Contents
Surrounded by 500 acres of gardens and rising tall from the gentle waters of its moat, Leeds Castle is arguably one of the most iconic venues in Kent. Built in the 12th century, Leeds Castle is a former royal palace and is considered to be one of the most beautiful medieval castles in England. The castle interiors were refurbished between 1920 and 1930s by European designers for its last private owner, Lady Baillie. At present, the castle is open to visitors and there's a lot to do here. Planning a visit to Leeds Castle Kent? From Leeds Castle opening times to Leeds Castle facilities, we have all the information you need for a memorable visit.
Leeds Castle Opening Timings
Leeds Castle opening times are as follows:
April to September
Grounds and Gardens: 10am - 6pm
The Castle: 10.45am - 4.30pm (last entry 3.45pm)
Playgrounds, Maze & Bird of Prey Centre: 10am - 5pm
October to March
Grounds and Gardens: 10am - 5pm
The Castle: 10.45am - TBA
Playgrounds, Maze & Bird of Prey Centre: 10am - 4pm
Closure Dates
The grounds and castle will remain closed on 10th July 2021, 6th/7th November 2021 and Christmas Day every year.
Duration
You will need about 3-4 hours to explore Leeds Castle.
Leeds Castle Location
Leeds Castle is located in Maidstone, Kent — nearly 70 km from London.
One can get to the venue via bus, car, and train. The castle has parking facilities in place for those that drive down.
There are numerous things to do and see in Leeds Castle, such as the playground, dog collar museum, and the actual castle.
You can also indulge in numerous events such as the famous Fireworks Spectacular and Leeds Castle Christmas.
Leeds Castle Events
Getting there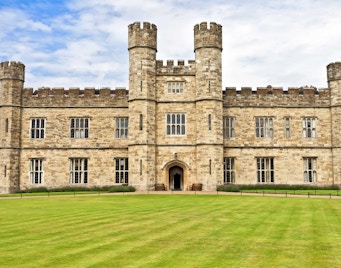 Train
Get to the Bearsted Station for easy connectivity to Leeds Castle. There are frequent services to and from Bearsted and a coach shuttle service available from the station from April to September. A private service is also available between October and March.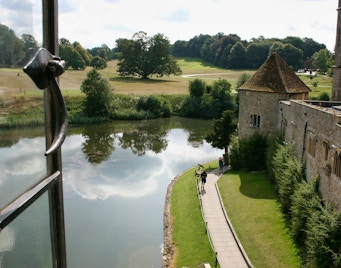 Bus
Nuventure no.13 bus from Maidstone to Hollingbourne and Arriva no.13 bus from Maidstone to Hollingbourne will take you to Leeds Castle. The castle is around 25 miles from the Eurotunnel terminal in Folkestone and approximately 38 miles from the port of Dover.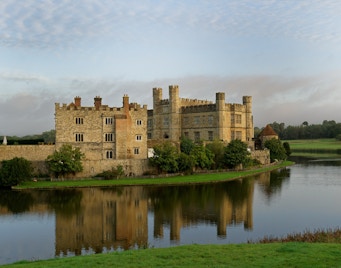 Car
Leeds Castle is just 1 hour from London and 30 minutes from the Channel Tunnel and Channel Ports. If you're renting a car, getting to the castle is a cakewalk.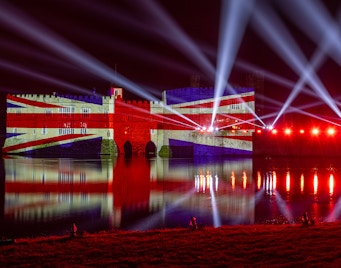 Parking Facilities
Visitor parking at Leeds Castle is free of cost. Although, the castle management cannot be held responsible for any loss or damage to vehicles while you are parked on site.
Visiting Leeds Castle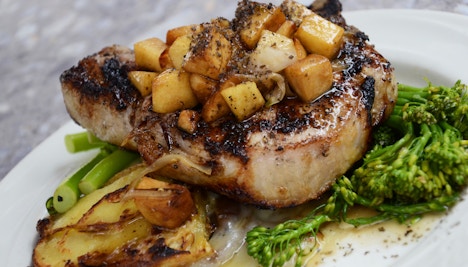 Restaurants
Leeds Castle is teeming with scrumptious food and drink options including Castle View Restaurant, Maze Café, Whistle Stop Café and Seasonal Kiosks. Castle View Restaurant, with a cosy, oak-beamed setting, serves delicious meals in a peaceful atmosphere along with breathtaking views of the magnificent castle.  You can also enjoy a quaint afternoon tea in one of the castle's most luxurious staterooms, accompanied by a delicious menu of mouth-watering treats.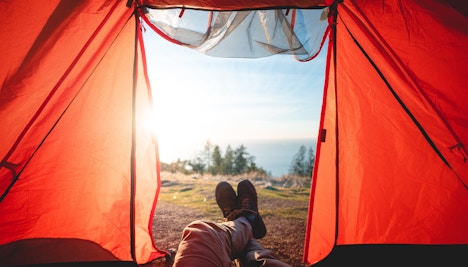 Glamping
Always wanted a glamping experience? Leeds Castle offers you a rare opportunity to enjoy a glamorous camping holiday in the countryside. A comfortable four-poster bed, homely electric flame effect stove, clean bedding and snug furry throws, all await you in your glamping experience. For guests looking to experience lazy summer evenings outdoors and eating as Medieval knights, access to a cast iron griddle over an open fire pit is included in your package.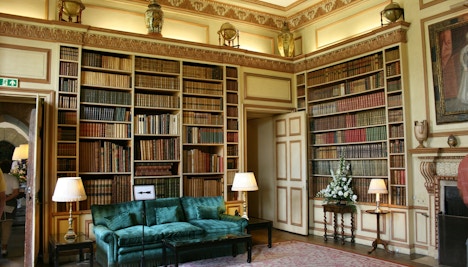 Stay
Get a royal treatment by staying at one of the historic cottages located around the expansive 500-acre estate. Surrounded by glorious natural beauty, the cottages are comfortable, charming, and a great reminder of our glorious past. Staying in the cottages allows you access to the grounds, castle and restaurants during the day. You can also explore the grounds in the evening after the gates have been closed for the day.
Leeds Castle Facilities & Services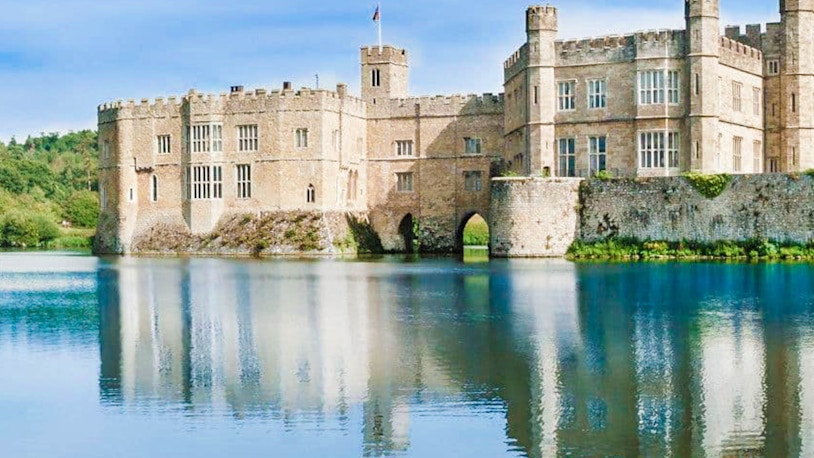 Shopping: Visit the Leeds Castle shops for quirky, quality gifts for your friends and family. Choose from an exciting range of items, including scarves and jewellery, themed souvenirs, food and drink, seasonal decorations, and special artefacts inspired by the castle.
Audio Tours: Make your visit to Leeds Castle even more memorable by opting for the audio tour. The tour can be purchased on the day of your visit from the Gatehouse and is available in English, French, German, Spanish, Japanese, Italian, and Russian.
Visit Leeds Castle: FAQs
Is Leeds Castle open now?
Yes, Leeds Castle and its attractions like Playgrounds, Gardens, Adventure Golf, Maze, Bird of Prey Centre, Dog Collar Museum, Black Swan Ferry, Mobility Bus, Shops, Castle View Restaurant and Catering Kiosks are now open.
What are Leeds Castle opening hours?
While Leeds Castle opening hours vary, the most common timings are 10AM to 6 PM.
What is the best time to visit Leeds Castle?
July and September are generally considered to be the best time to visit Leeds Castle as there are plenty of family-themed activities going on.
How do I get to Leeds Castle?
Leeds Castle is just 25 miles from the Eurotunnel terminal in Folkestone and 38 miles from the port of Dover. You can drive to the castle, take a bus or train, or opt for a local sightseeing tour.
What else can I do around Leeds Castle Kent?
Some of the things you can do around Leeds Castle Kent include visiting The Culpeper Garden, Mote Park, Maidstone Museum, and more.